ASB Industries Offers Innovative Industrial Coating Services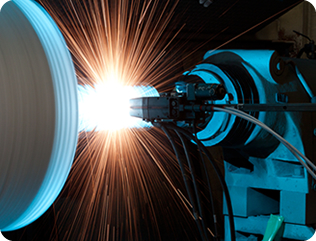 ASB Industries, Inc. is a leading single-source provider of cold spray and thermal spray industrial coating services. Since 1946, we've been helping our customers improve the efficiency and working life of their parts and equipment. Our cold spray and thermal spray coatings are uniquely customizable to the needs of our customers' projects.
We take pride in working with our customers to create a coating solution for their specific needs. Our state-of-the-art equipment, highly skilled operators and machinists, and innovative processes make our industrial coating services useful for nearly any application. No matter what sort of cold spray or thermal spray idea you may have in mind, ASB Industries will develop a specific solution to match your precise specifications.
Featured Applications
Thermal Sprayed Plastic Blow Molding Component

Surface quality is paramount for Blow Molding and Plastic Injection high production part outputs. Wear causing dimensional changes in product can be greatly reduced by applying a wear resistant carbide, -

Thermal Spray Journal Repair

Pictured is one of two mating Pinion Gear Shafts requiring bearing journal restoration. These large herringbone gears drive mill stands in a Hot Mill producing steel coils--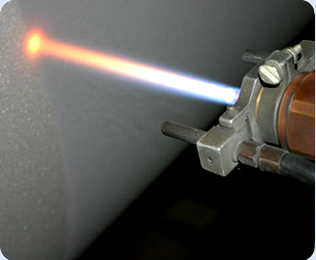 ASB strives to create lasting and professional relationships with all of our customers. Our cold spray and thermal spray coatings can deliver many years of service when applied to your components and machinery, so together we'll understand the importance of extended service life. But, we're always available to offer our industrial coating services for your new parts, components for new projects, and any other application requiring custom industrial coatings. For everything from wear, temperature barriers to part repair, ASB's industrial coating services will help you get more service life out of your parts and equipment.
Our in-house, full-service cold spray and thermal spray treatments are ideal for use in a broad range of industries. Because they're all completely custom to your particular project at hand, you can count on exceptional performance and protection for your coated components. ASB Industries offers some of the finest industrial coating services available.
Nitrogen vs. Helium: A Note on High Pressure Cold Spray Process Gases
In high pressure cold spray, nitrogen and helium are both common process gasses. Advancements in cold spraying equipment, and the development of specialized coating materials, have made it possible to apply pure metals, metal matrix composites, and harder alloys with uniformly high coating density.
However, the limited worldwide supply of helium and its resultant rationing have made it difficult to develop or adjust cold spray process parameters for the use of the gas. These factors have also made helium considerably more expensive than nitrogen. As such, nitrogen has become the preferred process gas for high pressure cold spray in practical commercial applications.
While ASB Industries utilizes equipment designed for both nitrogen and helium, we use nitrogen almost exclusively as our high pressure cold spray process gas.
Contact ASB through our website, or call us at 330-753-8458, to learn more about our cold spray and thermal spray industrial coating services.