Thermal Spray Case Studies
Cyclone Boiler-Thermal Spray Aluminizing on Tubes
Reason to Consider Surfacing
With extensive engineering and efficiency designs, this new Coal Fired Boiler has OEM specifications for an Aluminum Thermal Spray coating on studded tubes
Issues
Tubes in high temperature and corrosive environments can be coated to increase service life by reducing the effects of corrosion wear greatly prolonging wall thickness within design specifications for fire side heating while keeping water/steam flow for optimum performance.
Option
An Aluminum Thermal Spray coating applied by the Wire Combustion Process in combination with a high temperature sealer has been a proven standard for over 40 years adjusting to current thermal spray materials and equipment.
Benefits
Specified engineered Thermal Spray Coating System for this Heating Zone
Tube maintenance is greatly reduced from the effects of wear corrosion
Keeping boiler operating for longer periods and reducing maintenance during heavy load demands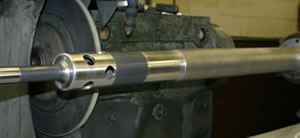 Ceramic Plasma Sprayed Seal Surfaces
Mixing Impeller Shaft for Food Processing
Reason to Consider Surfacing
Worn processing equipment not only shortens equipment life but potentially can contaminate food in various stages of production.
Issues
Maintenance cost including equipment disassembly, bearings and seals along with production down time are cost and quality issues where a hard surfacing can be advantageous
Option
A hard ceramic coating applied by either the Plasma Electric Arc System or the Rokide System produces a hard coating that is diamond ground to OEM finished specifications.
Benifits
Increases service life 4-6 times.
Reduces food contamination issues from the drive side of the Impeller
Long term cost benefits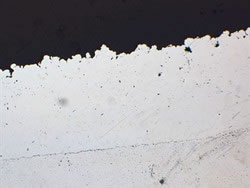 Cold Spray Aluminum Microstructure
Magnesium Repair on Light Weight Aerospace Components
Reason to Consider Surfacing
Magnesium components are difficult to repair due to heat sensitive corrosion reaction.
Issues
Limited repair options cost the aerospace industry a stockpile of unusable components and the high cost of replacement parts.
Option
High Pressure Cold Spray Process (HpCS) using Aluminum feedstock to repair worn areas can be easily machined to OEM specifications.
Benefits
Allow stockpile of expensive worn components to be repaired
High pressure cold spray (hpcs) has notably superior microstructure and performance characteristics compared to low pressure cold spray systems
Components can be repaired multiple times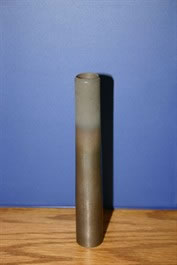 Thermal-sprayed portion of aerator tine to reduce abrasive wear.
Aerator Tine
Reason to Consider Surfacing
Abrasive soil/ground conditions in different regions cause uncoated tines to wear prematurely. Tines are about 5 in. long by 0.5 in. in diameter (127 by 13 mm).
Issues
Tines having increased wear resistance for the application. The OEM specification contains a product code called "High-Wear Tine," which a user (in this case the owner of the aerating equipment) can specify as a replacement part. Carbide thermal spray surfacing has been a designated product for the OEM for more than 20 years.
Option
Commercially available carbide/cobalt matrix is applied by the tine using the high velocity oxy-fuel (HVOF) process. A coating thickness between 0.002 and 0.003 in. (0.05 and 0.076 mm) is applied (by) to approximately a 1.5 in. (38 mm) long section of the wearing tip and feathered into the adjacent non-wearing area. No further finishing is required. The part is abrasive blasted and immediately thermal sprayed, followed by applying a thin film to prevent moisture penetration during storage.
Benefits
Service life of the tines is extended by 5 to 10 times that of
uncoated tines.
User experiences less downtime and labor to remove worn components.
Uniformity of the tine surface during aeration results in a more consistent appearance of the aerated areas.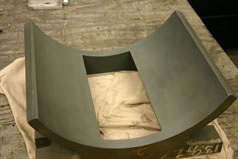 Thermal sprayed rotary-valve shoe component.
Shoe Component for Rotary Valve
Reason to Consider Surfacing
Wear on shoe component of rotary valve results in leakage in the closed position.
Issues
Reduce wear to eliminate material wastage and reduce maintenance costs.
Option
OEM sends parts directly to ASB Industries for processing. Chrome oxide is applied together with a 0.002 to 0.004 in. (0.05 to 0.1 mm) NiCr bond coat using the Rokide combustion process to apply materials in a rod form. C2O3 coating thickness is approximately 0.015 in. (0.38 mm). The shoe is hard-wheel ground to achieve required finish dimensions, and is finish ground using a diamond wheel to an approximately 20Ra micro-in. (0.5 m) finish.
Benefits
Ceramic coating easily diamond ground to oem specifications
Extends the service life of the shoe by 8 to 10 times that of the
uncoated part.

Customer reduced the costs of purchasing and shipping new replacement components to a remote location.