Thermal Spray Coating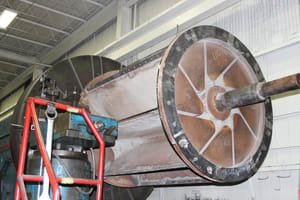 Twin Wire Arc Spray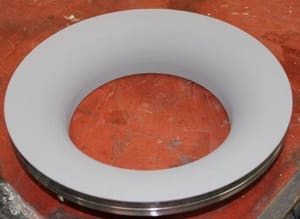 Pump Component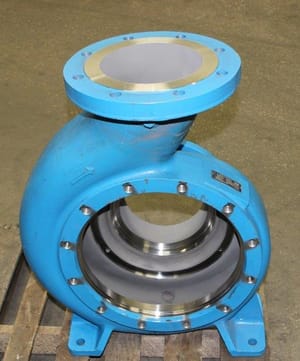 Pump Housing with Carbide Coating
Thermal spray coating is an industrialized process that combines a heat source with a wire or powder coating material. The material is then melted into droplets and sprayed onto a surface at a high velocity. The thermal spray coating process is known by a bevy of names, including: spray welding, plasma spray, HVOF, flame spray and is typically applied to metal substrates.
Thermal Spray Coating Processes
When it comes to thermal spray coating processes there are a wide range of thermal spray coating companies that can add one or two of the services involved. However, Hannecard - ASB can provide the full spectrum of thermal spray processes that other thermal spray coating companies may not. All of the thermal spray coating processes that Hannecard - ASB can include:
HVOF (High Velocity Oxy-Fuel Spraying)
Plasma Spraying
Combustion Flame Spraying
Two-Wire Electric Arc Spraying
Cold Spray
These thermal spray coating processes are discussed in more detail below.
Surfacing Technologies Coating Materials 
HVOF Thermal Spray Coating
This method creates rapid particle acceleration which speeds up the material in the mixture. The result is an exceptionally dense coating which is evenly applied. Despite being dense, this coating maintains a high bond strength. This process provides increased corrosion resistance due to coating density.
Combustion Flame Thermal Spray Coating
When compared to other thermal spray coating companies Hannecard - ASB's combustion flame spraying services are an excellent option for mechanical rebuilding of parts to OEM specifications. The coating which results from this process adequate bond strength to the surface so the lower flame velocity creates a less dense coating but allows relatively thicker coatings. The flame will be generated via oxygen which has been combined with fuel, and this will melt the mixture. The feed stock is powder or wire form and the equipment can be hand held. Combustion flame spraying is use for mechanical rebuilding applications due to its lower cost and applications include seal and bearing diameter repairs on journals and shafts.
Plasma Thermal Spray Coating
Plasma spraying is specific to unique alloys that can sustain high temperatures. Within this process a plasma gun is used as the main tool for heating and spraying the coating. After the powder material has been melted down, it is propelled directly onto the area being sprayed.
Electric Arc Thermal Spray Coating
This thermal spray coating technique utilizes an arc point which is created between two wires which are electrically conductive. The arc allows for heating which in turn creates deposition and melting, like combustion flame spraying which is used with a torch. Clean nitrogen gas will be used for spraying the coatings. This procedure is specified in many applications due to its cost effectiveness, utilizing wear and corrosion resistant stainless steel and carbon steel used on a variety of base materials. Hannecard - ASB Industries is an industry leader utilizing the electric arc thermal spray coating process.
Thermal Spray Coating Materials
Numerous materials can be used to create thermal spray coatings. Since finding the right coating is crucial, Hannecard - ASB Industries will work with you to determine the best coating material for your needs. We work with metals, alloys, carbides, ceramics, and more to give our customers top quality coatings that deliver the performance and protection their applications require. Some of the materials that we utilize, include:
Metals
Babbitt
Carbon Steels
Copper
Inconel
Nickel & Nickel Alloys
And More
Carbides
Thermal Spray Coating Solutions
In addition to wear protection and performance enhancement, thermal spray coatings can be used for emergency part repairs, onsite service, and the restoration of mis-machined components. Hannecard ASB Industries can also identify factors that are adding to the wear and tear on your parts and help correct these issues with the right coating. Our problem solving capabilities will help you to greatly reduce equipment downtime, keeping your production on track and on schedule.
Contact Hannecard - ASB Industries for your Thermal Spray Coating Needs
Contact us for more information regarding our thermal spray coating services, or submit a project today. Our advanced technologies over other thermal spray coating companies enables us to develop customized solutions for our customers' unique part wear and performance concerns. With the right combination of process and material, we can create the ideal thermal spray coating solution for almost any application.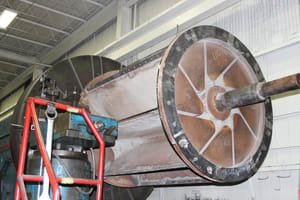 Twin Wire Arc Spray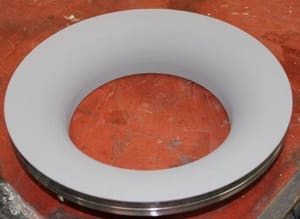 Pump Component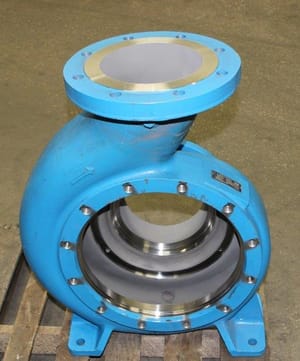 Pump Housing with Carbide Coating