Mesta Roll Grinder
Designed for precision grinding, crowned rollers are of vital importance to manufacturers in paper, film, and foil converting, among other industries. Maintaining complex roll crowns requires high accuracy and precision, which in turn requires the latest and most advanced technological equipment.
To that end, Hannecard - ASB has invested significant time and resources in modernizing our Mesta roll grinder. We have paired technological advances with time-tested equipment in an effort to guarantee that the end results always meet our customers' expectations.
Hannecard - ASB's Mesta Roll Grinder
The Mesta roll grinder has been a key piece of equipment for Hannecard - ASB for over 30 years. Measuring 60" in diameter and 288" in length (1524 mm x 7315 mm), it gives our customers options for larger roll bodies, shafts, and a variety of thermal spray surfacing projects, utilizing two-axis grinding capabilities and diamond grinding media to complete demanding jobs.
Because our Mesta roll grinder has served us and our customers so well for so long, we decided that bringing it into the 21st century would ensure that our customers can continue to benefit from it for years to come.
Mesta Roll Grinder Modernization & Upgrades
The most comprehensive way to modernize our Mesta roll grinder was through "remanufacturing" from the ground up. With the original capacity and capabilities of the machine as our starting point, we added a number of significant improvements that help us grind roll crowns with even greater precision and accuracy.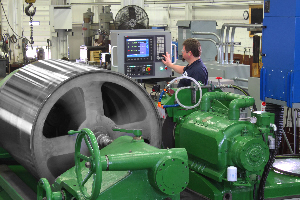 Fagor CNC Controls
Fagor 8065T CNC controls are specially designed for two axis grinding of roll crowns via high-production turning centers like the Mesta Cylindrical Grinder. This control system uses autotuning software that allows for the fine-tuning of processes for high precision, two axis grinding operations. By adapting the grinding conditions to the dynamics of the machine in advance of the programmed path changes, we can achieve more accurate finishes on our customers' roll crowns. Controls are fully integrated to achieve two linear axes on both spindles.
CNC controls enable us to work directly from your print specifications, programming roll crowns and profiles using standard G-Code programming, CAD/CAM software, or the controls' on-board profile editor. CNC controls allow for a range of complex grinding operations, including:
Radial/Convex Roll Crowns
Concave Roll Crowns
Straight/Taper Roll Crowns
Straight/Taper/Straight Roll Crowns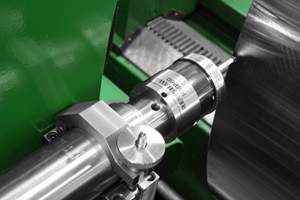 Renishaw Touch Probe
The newly-installed Renishaw touch probe on our Mesta roll grinder provides accurate data collection. Data showing flatness, roll crown profile, roundness, and/or total indicated run-out (TIR) is documented and readily transferable to Excel files for inspection. We keep data for all complex roll crowns, and will present it to you, as needed, along with completed inspection reports.
Comparative data can be integrated with in-place roll inspection data (Epac, Pro-Mic, etc.) to track roll crown conditions and trending.
Ground-Up Leveling & Scraping
Alignment and levels of all machine components of our Mesta roll grinder are checked using a Hamar L-730 precision laser level. Two-arc-second level vials and pitch and roll adjustments are utilized to ensure the laser plane remains parallel to reference points.
Scraping and reworking of critical ways was performed by hand to provide a plane for flatness and level measurements. Replacement components, including new lubrication lines and mechanical way covers, were installed, along with custom wear guards designed to minimize potential damage to key areas and guiding surfaces.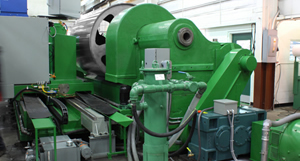 Dodge MagnaGear Parallel Shaft Reducer
The Mesta roll grinder's main gearbox drive unit was completely replaced. The new gear reduction box for the spindle was fastened to a new base and coupled with precision alignment to drive the motor and headstock. New bearings and drive belts were also installed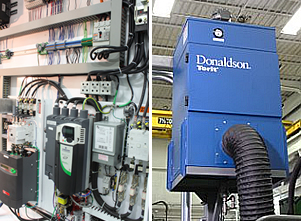 Filtering Units
To improve operator safety and provide a cleaner work environment when grinding roll crowns, a Torit Mist Collector with a 9" duct was installed at the grinding wheel and belt grinder. A Barnes Kleenall coolant cleaning unit with a magnetic/fabric filter was also installed.
For super finishing applications, a secondary Rosedale stainless steel bag filter was installed. As our Mesta roll grinder runs almost continuously, filtering keeps the coolant clean, which allows the grinder to operate more efficiently.
Additional Improvements
Modifications to the grinding head allow us to achieve near-theoretical grinding to center for complex roll crowns. This improves the wheel contact plane and increases the Mesta roll grinder's flexibility to process journal bearing areas and seal surfaces.
Polynomial interpolation splines provide excellent part surface finishes and allow high rotational speeds. An improved machining system reduces mechanical strain on the roll grinder and achieves smoother movements for better overall surface finishes on all roll crowns Hannecard - ASB processes.
Project Requirements for Roll Crowns
To provide the complex roll crowns you require, Hannecard - ASB needs your roll prints or CAD/CAM files. Upon completion of the two axis grinding process, the actual dimensions will be compared to your designs, and roll construction will be tested to ensure quality. Shell thickness and crack check testing can be performed, if required. Data files are also available upon request.
Discover the Hannecard - ASB Advantage
Reap the benefits of our Mesta roll grinder modernization project for yourself! Learn about the extensive machine-shop capabilities Hannecard - ASB offers to support complete pre- and post-treatment of all Thermal Spray, Welding and Cold Spray projects.
Grinder Highlights

60" Diameter x 288" Length
Fagor CNC controller for complex crowns with precision finishing
Extensive range of thermal spray surfacing options

Turnkey In-House Capabilities

Thermal spray surfacing technologies improve wear resistance & part longevity
Complete in-house services from start to finish for tough coatings & rebuilding.