Thermal Spray Coating Services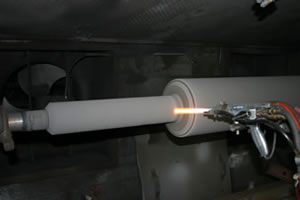 HVOF Thermal Spray Roll Services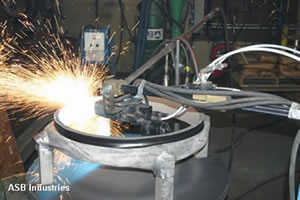 Rebuilding of Mis-Machined Component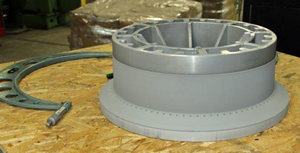 Hard Coated Wire Processing Drum
With over 76 years of experience in thermal spray coatings, Hannecard - ASB has the knowledge and understanding to provide superior finished components. Utilizing state-of-the-art equipment and our extensive experience with thermal spray coatings, we can prepare and finish parts while integrating masking, tooling, and fixturing that is customized to your unique requirements.
All thermal spray processes are within the scope of our capabilities. This enables to offer specialized thermal spray coatings that improve equipment performance, boost wear and corrosion resistance, extend component life, and more.
Custom Thermal Spray Coatings
Our thermal spray services are completely customizable to the needs of your project—any thermal spray idea you can imagine, we can achieve. Contact Hannecard - ASB today to put us to work on specialized thermal spray coatings for your project.
ASB's Thermal Spray Coating Flexibility
By using the right equipment and applying the right levels of heat energy, we can alter the structure of our coating materials to customize properties for your application. We use a wide range of materials for our thermal spray coatings, and can apply oxide-free materials, ceramics, pure metals, alloys, stainless steels, ultrahard materials such as tungsten carbide, or exotic materials with unique characteristics. Our expert team will help you find the right thermal spray material for your requirements.
All our thermal spray coatings are applied in-house, allowing us to properly prepare workpieces and give them the specialized finishing they need. We also offer on-site service for certain applications.
Hannecard - ASB's Thermal Spray Expertise
Hannecard - ASB's in-house quality assurance programs guarantee that each project meets the required specifications and that all coated parts are systematically evaluated for coating structure, coating bond, oxide content, porosity, and thickness.
Certified thermal spray operators, journeyman machinists, and state-of-the-art equipment make our thermal spray coatings the best in the business. Other companies may offer the same thermal spray services, but Hannecard - ASB's quality and expertise are unparalleled.
Experience, certification, and training are our greatest assets in providing practical solutions and efficiencies in quality, value, and deliveries. We have the know-how and the conviction to provide the industry's best service for your unique project.
Contact us for complete thermal spray services for your application or submit a project request today.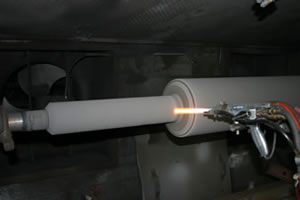 HVOF Thermal Spray Roll Services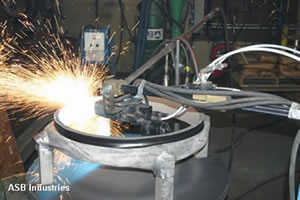 Rebuilding of Mis-Machined Component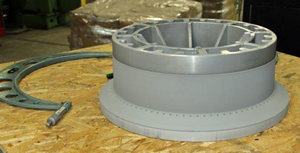 Hard Coated Wire Processing Drum