Thermal Spray Coating Services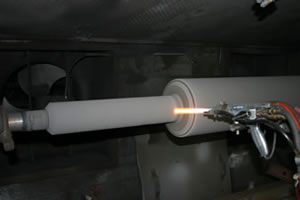 HVOF Thermal Spray Roll Services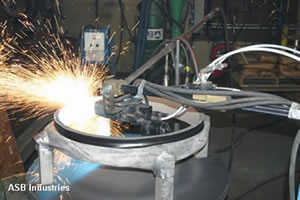 Rebuilding of Mis-Machined Component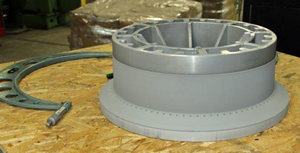 Hard Coated Wire Processing Drum
Thermal spray processes are a type of surfacing technology used to protect an extensive range of industrial components and equipment. Depending on your project, goals, and selected OEM thermal spray specifications, these coating processes create resistance to wear, corrosion, high temperatures, chemicals, exposed environments, and multiple types of wear. Additionally, thermal spray processing will rebuild worn areas back to OEM dimensions, allowing for component and print assembly.
Experts in Thermal Spray Coatings
With over 76 years of experience in thermal spray coatings, Hannecard – ASB has the knowledge and understanding to provide superior finished components. Utilizing state-of-the-art equipment and our extensive experience with thermal spray coatings, we can prepare and finish parts while integrating masking, tooling, and fixturing customized to your unique requirements.
Contact us or request a quote to learn more about our thermal spray coatings, including HVOF coatings, plasma spray coatings, and other high-technology thermal spray solutions.
Thermal Spray Guide Wear Resistance Part Performance Enhancement Coatings
Hannecard - ASB's Thermal Spray Processes & Capabilities
Hannecard – ASB has the expertise to apply coatings to nearly any substrate. No thermal spray process is outside our capabilities, enabling us to offer specialized thermal spray coatings that improve equipment performance, boost wear and corrosion resistance, extend component life, and more. Typical thermal spray coating services include:
All our thermal spray coatings are applied in-house, allowing us to properly prepare workpieces and ensure you only receive the best finished components. On-site thermal spray services are available for certain applications.
Custom Thermal Spray Finishes
Our thermal spray services are completely customizable to the needs of your project. Any thermal spray idea is discussed for feasibility and best results. Call 330-753-8458 today to discuss your project's specialized requirements. A thermal spray coating expert will be in touch to find a solution and start work on your custom application.
High-Quality Materials for Thermal Spray Coatings
As an ISO 9001:2015 certified company, Hannecard – ASB is prepared to handle the needs of any thermal spray coating application. To make sure that all your specifications are matched or exceeded, we use a wide range of materials for our thermal spray coatings. Our expert team will help you find the right material for your requirements. Some typical options include:
Oxide-free materials
Pure metals
Alloys
Tungsten carbide (and other ultrahard materials)
Exotic materials with unique characteristics
Improve Your Industrial Application with Thermal Spray Services
Hannecard - ASB's thermal spray coatings can be utilized to protect workpieces from a variety of hazards and/or provide an array of performance enhancement. Thermal spray coatings can provide:
Corrosion resistance
High-temperature resistance
Chemical resistance
Environmental & operational abrasion resistance
Improved electrical insulation or conductivity
Oxidation resistance
and more
Our thermal spray coatings can add "hard wear" surfaces to less resilient substrates, enhance grip or traction on smoother surfaces, and repair surface damage. They can also be used to refurbish parts by bringing worn areas back to OEM-spec dimensions.
Thermal Spray Coating Provides Effective Solutions Across Industries
Hannecard - ASB's thermal spray coating technology has been proven effective in a broad range of industries and applications including:
Hannecard – ASB is a Full-Service Supplier of Thermal Spray Services
Experience, certification, and training are Hannecard – ASB's greatest assets in providing practical solutions, efficient processes, and on-time deliveries. We have the know-how to provide the industry's best service to add value to your unique project. Our in-house quality assurance programs guarantee that each thermal spray-coated part is evaluated for coating structure, coating bond, oxide content, porosity, and thickness.
Our certified thermal spray operators and journeyman machinists utilize cutting-edge equipment to make our thermal spray coatings the best in the business. Contact us to learn more about our thermal spray services, processes, and coating technology. Request a quote to receive information specific to your planned application.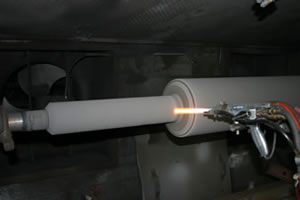 HVOF Thermal Spray Roll Services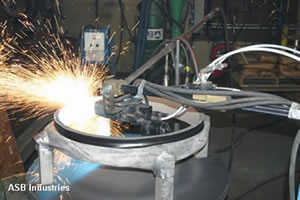 Rebuilding of Mis-Machined Component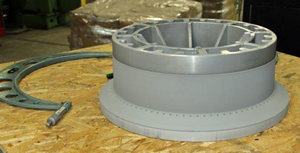 Hard Coated Wire Processing Drum