Aerospace Coatings Using High Pressure Cold Spray
Magnesium Gear Box Repaired Due to Fretting Wear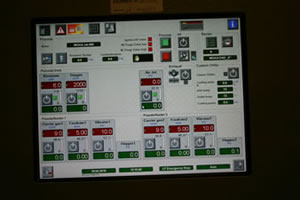 Process Screen for Liquid Feed HVOF Thermal Spray
The use of highly tested thermal spray coatings results in greater fuel efficiencies, higher speeds and reduced maintenance cycles in aircraft engines. Engine manufacturers and Maintenance and Repair Operations (MRO Stations) follow specific guidelines and quality standards that specify standards integrated into the entire engine systems. Each part of the engine have specifications that reduce fretting, abrasive wear, corrosion and high temperature conditions.
Hannecard - ASB can repair costly magnesium components at a cost effective price with our High Pressure Cold Spray Process. With the numerous advancements using fundamental physics and science, we are able to utilize advanced rebuilding techniques that allow us to reclaim structurally sound magnesium gear box components that are frequently used in rotorcraft and other aerospace components. The cold spray process can provide an ideal repair solution for numerous situations in the aerospace industry for both military and civilian applications.
Hannecard - ASB developed material specifications and equipment advancements to show the value of the Cold Spray process as a repair method. Cold Spray has been used in Australia and in many European countries as a repair method for military aircraft. This process has proven to be a highly accepted solution to many situations due to its bond strength, material purity, and the fundamental properties of the material.