Thermal Spray Technology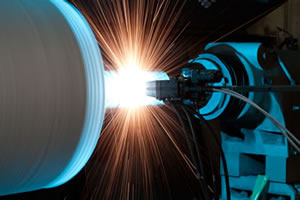 Twin Wire Arc Spray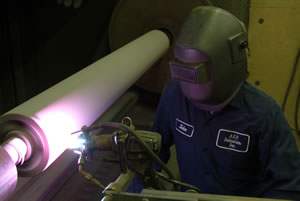 Ceramic Surfacing Using Plasma Electric Arc Process
ASB Industries Inc. is your number one source for complete, turnkey thermal spray coating solutions. We offer a thermal spray technology that is customizable to the needs of your unique application. We will work with you to develop the ideal thermal spray coating solution for your project's unique challenges.
Our thermal spray coating services help extend the life of treated parts and components by shielding them from all types of wear and tear. No matter what physical, chemical, or environmental factors you're up against, our thermal spray technology provides the protection your machinery and equipment need.
Proven Thermal Spray Coating Solutions
ASB's thermal spray coating technology has been proven effective in a broad range of industries and applications including:
Power generation
Steel industry applications
Paper mill products
And more
For OEMs, second-tier parts manufacturers, and other industrial manufacturing businesses, we can create custom thermal spray coating solutions that improve the efficiency and extend the working life of the equipment these companies use every day.
Whatever your thermal spray coating application may require, we have the experience, technology, and the know-how to deliver the ideal thermal spray coating solution. Our connections to material and equipment suppliers give us an understanding of both material composition advancements and equipment enhancements. This knowledge, in turn, enables us to improve production efficiencies for our thermal spray coating and cold spray processes.
Working within your requirements and observations, ASB Industries offers a comprehensive cost and benefit analysis for your thermal spray coating project. If we believe your current specification can be improved through our thermal spray technology, material, or process advancements, we will mutually discuss the potential improvement options.
Thermal Spray Technology & Specialized Sealing Treatments
To complement our thermal spray coating solutions, ASB offers a range of sealing treatments that are proven to enhance performance in molten metal, ultra-corrosive, and high temperature applications. These specialized sealers require distinct chemistries as well as advanced, closely controlled, post-coating heat treatments developed by our internal R&D team, and our international partners.
A prime example of a thermal spray technology that specializes in sealing expertise is our proprietary KarGen coatings.
KarGen coating thermal spray technology - Applied after thermal spray coating services and processing, these sealers are specifically engineered for treating furnace rolls for pickup resistant surfaces used in steel strip processing. As steel producers develop new high-strength steel chemistries, increased processing temperatures require better surface finishes. The nano-based sealers in our KarGen coatings offer superior flexibility for continuous processing demands.
Contact ASB Today
Contact ASB Industries for more information on our thermal spray coating services or customizable thermal spray technology that will improve your equipment's performance. Or, submit your project today for a free price quote.
Thermal Spray Services Thermal Spray Capabilities Machining, Grinding & Finishing