Surfacing Technologies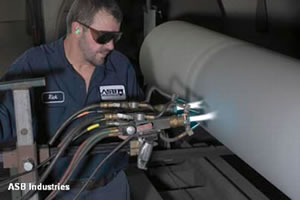 Application of Wear Surfacing for Traction for Paper Winding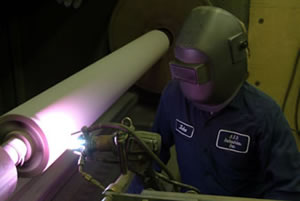 Aluminum Oxide Plasma Electric Arc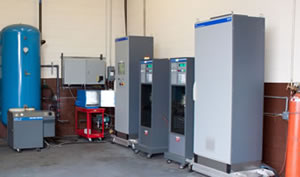 WOKA Jet Kerosene Fuel HVOF
If you're currently using or considering surface treatments such as thermal spray, welding, or cold spray, ASB Industries offers turnkey solutions using a variety of options. Our proven surfacing technologies can be customized to your individual needs.
High Velocity Oxygen Fuel (HVOF) processing provides extremely dense, low-porosity surface coatings with high bond strength. To ensure superior quality and consistency in our HVOF coatings, ASB utilizes:
• Diamond Jet HVOF coating systems
• Unicoat/Woka Jet LF (Liquid Fuel) HVOF surfacing technologies
• Six-axis robots and other dedicated equipment and tooling
To apply abradable and highly wear-resistant ceramic thermal barrier coatings, ASB relies on plasma electric arc thermal spraying. This process utilizes a non-transferred arc as a heat source to ionize gas. The plasma energy then melts and propels the coating material onto the workpiece. Surfacing technologies like this one are used primarily to apply ceramic surface coatings.
Powder & Wire Combustion Thermal Spray
To apply alloy, carbide, and ceramic coatings, ASB Industries utilizes an array of surfacing technologies: powder combustion, thermo-spray, and wire combustion. These processes use a fuel gas mixture to melt wire, or powdered coating material. ASB uses clean gas technology throughout our facility to optimize the structure of these premium coatings.
Additional Surfacing Technologies 
Follow the links below or contact ASB Industries to learn more about our various surfacing technologies.
Hard Facing
Combustion Wire Spray
High Velocity Oxygen Fuel
Combustion Thermal Spray
Wire Combustion Thermal Spray
Magnesium Repair
Contact us to discuss your Surfacing Treatment options
Give us a call at 
330-551-5077
 with your project requirements or
submit a project
today.