Chrome Oxide Ceramic Coatings (Cr2O3 Coatings)
Chrome Oxide Plasma Spray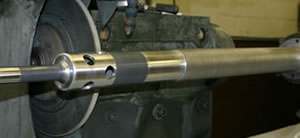 Food Processing Impeller Shaft Ceramic Coated Seal Surfaces
Chromium oxide ceramic coatings, or black oxide coatings, are a type of industrial coating that are applied using flame spray or plasma electric arc coating processes. These types of coatings are highly effective as seal surfaces and are also effective at improving abrasion and wear resistance.
At Hannecard - ASB, we provide turnkey, cost-effective Black Oxide Ceramic Coating technologies services that allow your projects to be customized to meet individual solutions and results. We serve a variety of industries — from power to steel, paper and more!
Contact us for more information regarding our Industrial Chrome Oxide Ceramic Coating services and finishing options, or call today at 330-551-5217 and we will discuss your specific project requirements. Hannecard - ASB is your trusted provider of advanced Chromium Oxide Coating Services.
Chromium Oxide Coating Features
Chrome oxide (Cr2O3) is an inorganic compound of chromium and oxygen. It is one of the principal oxides of chromium and occurs naturally as the rare mineral eskolaite. Chromium oxide coatings (Cr2O3 coatings) impart many of the material's favorable characteristics to coated substrates, including:
Excellent Wear
Excellent Abrasion Resistance
High Chemical Resistance
Anti-Reflective
Chrome Oxide Ceramic Coating Processes
If you are looking for plasma spray coatings that provide excellent self-mating, anti-galling and corrosion resistant properties, plasma sprayed chromium oxide coatings are the perfect choice. Parts that are affected by wear problems caused by cavitation, particle erosion, hard surfaces and abrasive grains are excellent candidates for this material. Our chrome oxide coatings are custom-tailored to your application's specific requirements using our custom coating processes, which include:
Powder Feedstock
Powder Combustion Thermal Spray
Ceramic-Based Feedstock
Chromium Oxide Cr2O3 Coating Applications
Due to its color chrome oxide is often referred to as a green or black oxide coating. Chrome oxide ceramic coatings are useful in a wide range of additional industrial applications, including:
Applications
Sealing surfaces on food processing equipment
Enhancing different types of seals
Improving abrasion and wear resistance
Bearing protection from long wearing surfaces
Industries Served
Automotive
Construction
Energy
Military
OEM
Steel
Paper
Additionally, chrome oxide coatings are commonly applied to pump components, rotating equipment, and other parts and components to improve wear resistance and chemical resistance.
Chromium Oxide Coating Pre-Machining & Post Finishing Services
Hannecard - ASB provides pre-machining and post finishing to OE dimensions for our chrome oxide coatings, using diamond grinding wheels and diamond belts. Diamond grinding achieves smooth, polished surfaces on Cr2O3, with a low coefficient of friction.
In addition, specialty chemistries, including fused and crushed mixtures or cladded oxide with titanium dioxide additives, are also available to meet unique needs.
Contact Hannecard - ASB for Chrome Oxide Ceramic Coating Services Today
Contact us for more information regarding our Cr2O3 Ceramic Coating Services or submit your project for a custom pricing quote today. Hannecard - ASB is your direct source for industrial Black Oxide Ceramic Coatings Services.