Chrome Oxide Coatings (Cr2O3 Coatings)
Chrome Oxide Plasma Spray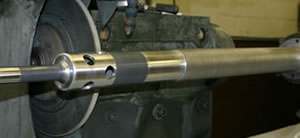 Food Processing Impeller Shaft Ceramic Coated Seal Surfaces
ASB Industries' chrome oxide coatings (or Cr2O3 coatings) provide excellent wear resistance and high chemical resistance. Sometimes referred to as "black oxide coatings," chrome oxide coatings are also anti-reflective.
Utilizing plasma electric arc coating processes and powdered feedstock, or Powder Combustion techniques and ceramic-based feedstock, we can create chrome oxide coatings that are custom-tailored to your application's specific requirements. Specialty chemistries, including fused and crushed mixtures or cladded oxide with titanium dioxide additives, are also available to meet unique needs.
ASB provides pre-machining and post finishing to OE dimensions for our chrome oxide coatings, using diamond grinding wheels and diamond belts. Diamond grinding achieves smooth, polished surfaces on Cr2O3,with a low coefficient of friction.
Applications for Chrome Oxide Coatings
Chrome oxide coatings are useful in a wide range of applications. They are highly effective for sealing surfaces in the food industry, and many others, enhancing a variety of seal types, improving abrasion and wear resistance, and protecting bearings and products from contamination.
Chrome oxide coatings are commonly applied to pump components, rotating equipment, and other parts and components to improve wear resistance and chemical resistance.
Contact ASB Industries today for the chrome oxide coatings your application requires.