Plasma Spray Coating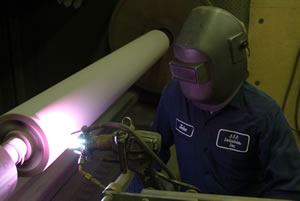 Plasma Electric Arc Ceramic Coating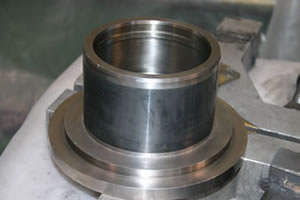 Chrome Oxide Coated Wear Surface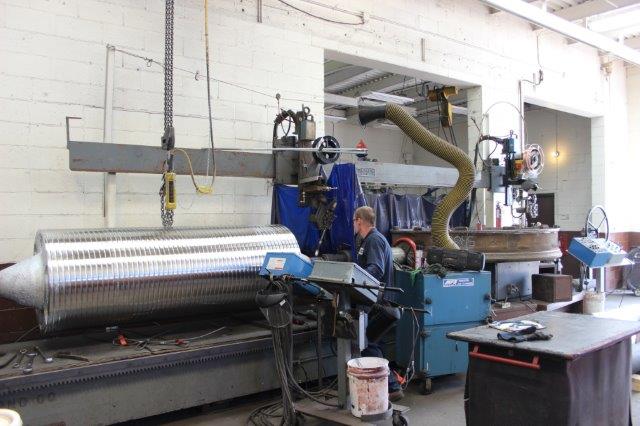 Support Bearing Pullers
ASB Industries' plasma electric arc spray coating processes utilize heat energy to reach the melting point of the chosen ceramic chemistry. This versatile system creates ceramic coatings that can protect components in even the most severe environments. Plasma spray coatings provide:
High temperature resistance
Extreme wear resistance
Inert chemical resistance
Effective Protection for A Range of Applications on Plasma Electric Arc Spray
Plasma electric arc spray is an established thermal spray process that is commonly used for numerous applications across many industries. Aircraft turbine engines, land based turbines, and other applications that could achieve greater operating efficiencies with high temperature protection are prime examples. In the chemical industry, chemical corrosion, abrasive wear, erosion, and cavitation are common challenges that can be solved with the application of ceramic coatings using the plasma spray process.
If electrical current is an issue, plasma electric arc spray coatings also provide dielectric shielding. These coatings have the ability to prevent current from passing through critical components and causing harmful arcing. With the added protection of a plasma spray coating, components are shielded from potentially severe electrical corrosion and damage to bearing components.
ASB's Plasma Spray Processes
Throughout the plasma electric arc spray process, documented procedures are recorded for each job, and on-going inspections are performed for each critical step. Both the plasma spray control panel and our closed loop powder feeders are precisely calibrated to produce consistent coating quality. All equipment is calibrated to ISO standards to optimize the injection of powder into the plasma jet, which ensures the proper melting of powdered materials. All lot number from our powder suppliers are recorded and, in most cases, sample pieces are processed for testing purposes during production spraying.
Common coating materials used in our plasma spray processes include:
Aluminum oxide
Chrome oxide
Zirconium oxide
and others
Specialized coating materials may be available upon request. Contact ASB Industries to discuss your material requirements.
Thickness specifications are based on the component application, including wear and corrosion considerations. Along with multilayered coating systems, ASB will utilize specialized sealing treatments to optimize coating performance.
Submit your project to get our team started on your plasma electric arc spray coating solution, or contact ASB Industries to learn more.