High Pressure Cold Spray Equipment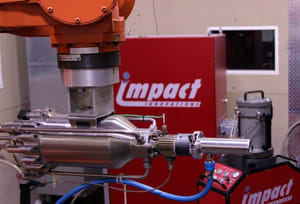 Impact Innovations' High Pressure Cold Spray System
If you're looking to add full-time cold spray coating capabilities to your facility, look no further than ASB Industries. We work with Impact Innovations (see below), a leading cold spray equipment company, to manufacture and distribute a full line of high pressure cold spray equipment.
In 1996, we became the industry's first licensee for the development of cold spray equipment and processes. In the decades since, our patents, licenses, and hardware designs have helped us build a reputation for innovation in cold spray equipment and material property development.
ASB works with commercial companies, universities, military, and research facilities to develop process controls, nozzle designs, and nozzle materials, as well as the infrastructure to help cold spray equipment run properly and efficiently.
ASB Industries & Impact Innovations
ASB Industries is the North American distributor of Impact Innovations' high pressure cold spray equipment, providing sales and tech support throughout the United States, Canada, Mexico, and beyond. Our experience and expertise in developing our own cold spray technology makes our collaboration with Impact Innovations a perfect fit, as it brings two of the world's leading cold spray equipment companies together.
Cold Spray Equipment for Your Facility
ASB Industries has everything you need to add full-time, onsite cold spray coating capabilities to your facility. Contact us today for the cold spray equipment you need.