Electronic & Semiconductor Applications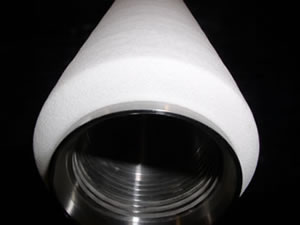 Sputter Target Cold Sprayed
Hannecard - ASB offers a range of specialty coatings for electronic and semiconductor production. Our thermal spray and cold spray coatings are designed to improve the performance, safety, and longevity of treated parts and manufacturing equipment components.
We have a range of materials including tantalum, copper and other pure materials available for electronic coatings including consumable alloys applied to components used in the sputtering process, each of which delivers unique characteristics and advantages. Depending on the needs of your application, Hannecard - ASB can provide electrically conductive coatings, dielectric coatings, and coatings for EMI shielding. Ceramics, copper, and aluminum are all well-suited for use as electronic coatings. Additional coating materials are available to meet other requirements including combinations of wear and corrosion.
Our materials expertise enables us to develop unique solutions for each customer's needs. For applications such as solar panels, printed circuit boards, semiconductor components, silicon wafer production, photomask processing and more, Hannecard - ASB is your leading resource for electronic coatings. Contact us today for the thermal spray and cold spray coatings your project needs, or further information.