HVOF Coating Services
HVOF Shock Diamonds
Carbide Surfacing of Grooved Roll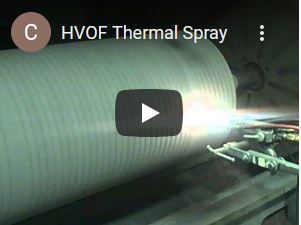 HVOF Thermal Spray Video
Hannecard - ASB brings proven experience in both liquid- and gas-fueled thermal sprays to every HVOF/HVLF coating project. We are equipped to produce consistent applications of HVOF/HVLF tungsten carbide or other HVOF surface coatings over a wide variety of part configurations, adapting specialized masking and manipulators as needed.
In addition to commercially available materials, we can provide specially engineered chemistries for your specific applications. With your unique dimensional and surface finish requirements in mind, Hannecard - ASB also offers a range of HVOF coating options, from sprayed gripping surfaces to highly polished diamond grinding and super finishing.
What are the High-Velocity Oxy Fuel Coating Materials?
HVOF coating material compositions vary by their carbide percentages and particle sizes. During processing, this thermal spray procedure melts binder materials and avoids phase changes of in the hard carbide particle-cemented coating materials. Binder materials such as cobalt and nickel, are used in varying percentages for tested applications to prevent corrosion and wear.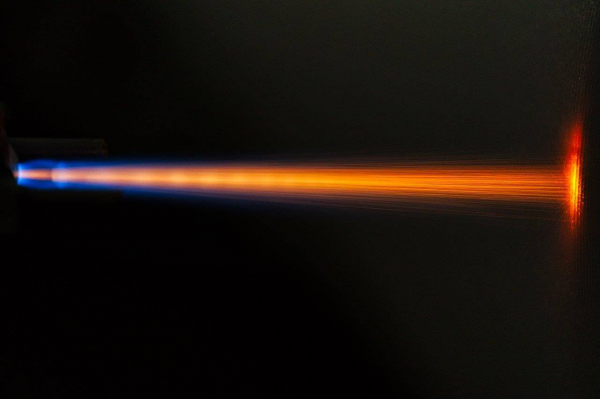 What is the HVOF Coating Process?
The HVOF (High Velocity Oxygen Fuel) coating process combines supersonic particle impact on the substrate with controlled heat energy to produce a consistent hard-particle surface distribution with high bond strengths, low porosity, and high wear resistance. With many years of experience and a skilled team of thermal spray operators, Hannecard - ASB consistently delivers the highest quality HVOF surfacing solutions to prolong the life and improve the quality of your parts and products.
Benefits of Thermal Spray HVOF Coatings 
Beyond HVOF tungsten carbide and other carbide chemistries, HVOF thermal spray treatments for applications requiring severe wear, abrasion, and/or corrosion resistance can produce exceptional results. From aerospace operations to paper production, HVOF coating solutions can be extremely effective when used in the initial design of OEM equipment or for repair work.
Hannecard - ASB's case studies elaborate on notable applications in a wide range of processing industries.
HVOF Spray Benefits & Applications
Visit our Featured HVOF Applications section of the Hannecard - ASB web site to explore many unique and innovative HVOF Tungsten Carbide coating solutions we've provided. Many of our valued customers incorporate our cost-effective surfacing technologies to enhance their unique process capabilities.
Please contact us for more information on our HVOF tungsten carbide coatings and other HVOF solutions.