Part Performance Coatings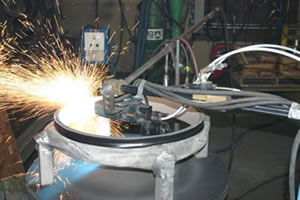 Mis-Machine Thermal Spray Repair
High Performance Coatings for Equipment Optimization
With a wide range of capabilities, Hannecard - ASB can provide numerous coating options to help improve part performance. These coatings can prevent wear problems in critical machinery or be used to optimize your equipment's performance.
Contact us for more information on our part performance coatings, or request a quote today.
Performance Coating Materials
Hannecard - ASB can produce high performance coatings results that will withstand even the most challenging applications and environments. Our engineers use a wide variety of materials utilizing our surface enhancement process technologies, including:
Hard tungsten carbide coatings
High temperature ceramics
Corrosion resistant nickel based alloys
Titanium
Tantalum
Niobium
Performance Coatings with Specialized Surfaces
Many components require special surfaces, such as mating seals, product gripping surfaces, and high precision components which must match engineered dimensional and surface specifications. Hannecard - ASB can produce high performance coatings with unique surface finishes to meet your requirements.
Performance Coatings Enhance Electrical Resistance & Conductivity
Equipment performance can be enhanced by eliminating stray electrical currents or enhancing electrical conductivity of components within a system. Ceramic coatings are typically used for shielding, while copper-based materials are used for conductivity. high pressure cold spray copper provides an oxide-free layer with properties similar to wrought pure copper. A number of simple but innovative surfacing technologies can be utilized to shield stray frequencies.
Performance Coatings Reduce High-Temperature Damage
Hannecard - ASB's high performance coatings can protect the integrity of parts exposed to high temperatures during production. Stress corrosion cracking associated with high-temperature altering mechanisms and the reduction of oxide pick-up for rolls used in glass and steel industries can be eliminated with the right performance coating.
Our performance coatings resist high temperature cycling, and in many cases, prevent damaging build-up on surfaces that may affect product quality. This often occurs with equipment such as furnace rolls that are used to produce high strength steel strip. From molten metals to high temperature processing, Hannecard - ASB will work with your current equipment to develop performance coating solutions for difficult environments.
Performance Coatings Enhance Corrosion Resistance
From simple atmospheric corrosion to severe oxidizing vapors and liquids, anti-corrosion performance coatings can protect substrate structures from severe corrosion damage. Pre- and post-treatment may be utilized to develop a successful corrosion protection system; in addition, these high performance coatings can be cured in our large high-temperature oven.
From nickel-based high temperature corrosion resistant coatings to zinc and aluminum, these coatings cover a wide range of applications. The cost of corrosion has been studied throughout the world, and protective performance coatings have been proven to save money and maintenance hassles by effectively reducing or eliminating the effects of corrosion.
Discover More About High Performance Coating Applications
With the knowledge and experience Hannecard - ASB Industries has gainedin over 70 years of business, you can be confident that we can find the right solution for your industry application.