The Ceramic Coating Advantage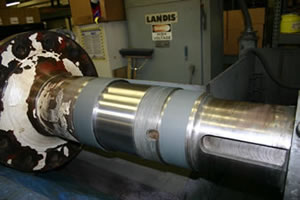 Ceramic Seal Surface Providing Wear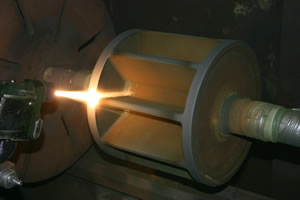 Ceramic Spraying Chrome Oxide
Ceramic coatings provide numerous advantages when applied via ASB Industries' wide-ranging thermal spray capabilities. The benefits of ceramic coating include:
High temperature resistance
Wear resistance
Improved durability
Chemical & corrosion resistance
Ceramic Coatings Tailored to Your Project Needs
Our ceramic coating materials and chemistries exhibit unique properties that provide specific benefits for different applications. These properties include improved durability, extended wear life, and chemical and corrosion resistance, to name a few. When used in high temperature environments, the chemical resistance of oxide ceramic coatings will shield base materials from both vapor and liquid corrosion. Specific ceramic coatings are ideal for high- and low-voltage dielectric applications including EMI shielding.
ASB Industries will designate a customized ceramic coating based on the needs of your repair/rebuild project, with performance enhancement options added where applicable. We will recommend the thermal spray process that optimizes the correct ceramic coating performance for your application.
The experience of our machinists combined with differing combinations of grinding and various surface finishing methods results in precise dimensional finish requirements, and a specified range of surface profiles.
Ceramic Coating Materials
ASB utilizes plasma electric arc and Flame Spray processes to provide high quality ceramic coatings for any industry or application. There are a variety of ceramic materials you can choose from for your ceramic coating application. Some of which include:
Ceramic Coating Applications
Ceramic coating materials are frequently used for a variety of differing industrial applications, some of which include:
Surface seals – Used mostly in the food manufacturing and pharmaceutical industries.
Critical seals – Usually used in heavy-duty, high-speed industrial applications for steel production and power generation equipment.
Bearing contamination reduction – Ceramic coating materials that have great wear resistance and work effectively with metal, rubber, and polymer benefit from this application.
Leak minimization – All processing environments will benefit from this ceramic coating application.
Thermal shock – If the ceramic coating is modified to a three-layer system then it can be used for thermal shock applications. This involves the application of a metallic base coat, a ceramic/metallic intermediate layer, and a ceramic layer top coating, such as zirconium oxide. Projects that benefit from these specialized ceramic coatings include missile steering vanes.
High speed/High velocity – Ceramic coating materials can withstand high temperatures and provide more effective performance in high velocity/high speed applications. This makes ceramic coatings an ideal solution for land based aerospace turbine components.
Contact ASB Industries today to take advantage of our high performance ceramic coatings for your unique application.