The Ceramic Coating Advantage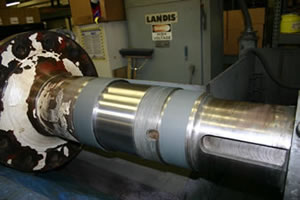 Ceramic Seal Surface Providing Wear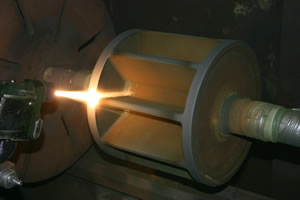 Ceramic Spraying Chrome Oxide
Ceramic coatings are industrial coatings applied to the substrate of mechanical parts and components to help improve wear and refurbish worn parts. When applied correctly and using the right material, ceramic coatings are an effective tool for improving the functional properties of mechanical and high temperature components.
Using Thermal Spray Technology to Deliver Lasting Results
Ceramic coatings can improve protection from wear and are used for a wide range of applications. When applied using ASB Industries' wide-ranging thermal spray capabilities, ceramic coatings provide numerous advantages, including:
High temperature resistance
Increase hardness and wear resistance
Improved durability
Chemical & corrosion resistance
Thermal and electrical insulation
Improved thermal shock resistance
Applying a ceramic coating to mechanical parts and components using thermal spray technology can also help reduce costs by providing better performance and decreasing maintenance, which can result in a longer equipment life. Examples of industries that use ceramic coating applied using thermal spray technology include aerospace, automotive, biomedical, hydroelectric and wind energy, and industrial gas turbines.
Ceramic Coatings Tailored to Your Project Needs
Our ceramic coating materials and chemistries exhibit unique properties that provide specific benefits for different applications. These properties include improved durability, extended wear life, and chemical and corrosion resistance, to name a few. When used in high temperature environments, the chemical resistance of oxide ceramic coatings will shield base materials from both vapor and liquid corrosion. Specific ceramic coatings are ideal for high- and low-voltage dielectric applications including EMI shielding.
ASB Industries will designate a customized ceramic coating based on the needs of your repair/rebuild project, with performance enhancement options added where applicable. We will recommend the thermal spray process that optimizes the correct ceramic coating performance for your application.
The experience of our machinists combined with differing combinations of grinding and various surface finishing methods results in precise dimensional finish requirements, and a specified range of surface profiles.
Ceramic Coating Materials
ASB utilizes plasma electric arc and Flame Spray processes to provide high quality ceramic coatings for any industry or application. There are a variety of ceramic materials you can choose from for your ceramic coating repair application, some of which include:
Aluminum Oxide Coatings Chrome Oxide Coatings
Get Advanced Ceramic Coating Technical Information and Support from our Metallurgist
There are several things to consider when choosing a ceramic coating including the substrate material and properties, coating material, coating thickness, method of application, the type of part or component being coated and, most importantly, environmental and operating conditions.
ASB Industries is a ceramic coating application specialist with the technical knowledge and expertise to provide you with ceramic coatings based on your exact requirements. Whether it's helping you choose a coating or providing support and services to look at the science behind different ceramic coating options, we can help.
We have a Metallurgist on staff to answer your questions and provide you with the proper resources for your ceramic coating repair project.
Ceramic Coating Applications
Ceramic coating materials are frequently used for a variety of differing industrial applications, some of which include:
Seal Surfaces – Usually used in heavy-duty, high-speed industrial applications for steel production, power generation equipment, and in food manufacturing and pharmaceutical equipment.
Seal Surfaces For Bearing Contamination Reduction – Ceramic coating materials that have great wear resistance and work effectively with metal, rubber, and polymer benefit from this application.
Seal Surfaces For Leak Minimization – All processing environments will benefit from this ceramic coating application.
Thermal Shock – If the ceramic coating is modified to a three-layer system then it can be used for thermal shock applications. This involves the application of a metallic base coat, a ceramic/metallic intermediate layer, and a ceramic layer top coating, such as zirconium oxide. Projects that benefit from these specialized ceramic coatings include missile steering vanes.
High Speed/High Velocity – Ceramic coating materials can withstand high temperatures and provide more effective performance in high velocity/high speed applications. This makes ceramic coatings an ideal solution for land based aerospace turbine components.
Contact ASB Industries to Take Advantage of Our High Performance Ceramic Coatings
ASB is a trusted ceramic coating supplier offering ceramic coating repair and services for your unique application. Contact us to learn more about our capabilities or submit a ceramic coating project to get a complimentary resurfacing analysis.