Steel Coatings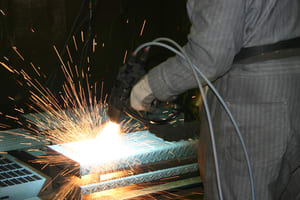 Rough Steel Thermal Spray Coating for Walkway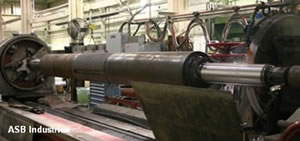 Induced Draft Fan Shaft Repair on Bearing Surface
ASB Industries provides industrial coating services utilizing a variety of steel coating materials. Using plasma transferred arc and other coating processes, we produce quality steel coatings which can greatly improve the performance and extend the working life of treated parts and components.
Submit a project for a free price quote on steel coatings for your application, or contact us to learn more.
Steel Coating Options
ASB works with a number of steel coating materials in our industrial metal coating services, each with unique characteristics. Our steel coating options include:
Stainless Steel Coatings provide exceptional wear and corrosion resistance, and are ideal for dimensional build-up of worn or damaged parts
Amorphous Alloy Coatings such as Nistelle and Hastelloy greatly improve temperature, wear, and corrosion resistance
Carbon Steel Coatings can be used to rebuild or repair surface damage on many steel substrates, bringing them back to OEM specs while closely matching material properties
Tribolite Coatings use a specialized, iron-based material to provide significant wear improvements, high temperature resistance, and superior porosity for lubrication encasement
Many other metal and non-metal coating materials are also available, as your project requires. Contact ASB to discuss your material requirements
Customized Steel Coatings to Meet Your Needs
ASB Industries' stainless steel coatings and other specialized steel coatings can be applied in varying thicknesses to increase the level of protection they provide. Our team will work with you to determine the best steel coating material and application technique for your specific needs. The customizable nature of our industrial metal coatings enables us create unique solutions for any customer application.
During roll refurbishment, for example, inspections may require additional journal repair in the seal and bearing areas. Carbon steel coatings and stainless steel coatings applied via electric arc or combustion thermal spray processes have proven to be exceptionally effective for dimensional build-up and are easy to machine to the required dimensions.
Submit a project to receive a complimentary price quote on the steel coatings you need. Or, contact ASB Industries for more information on our industrial metal coatings.
Repairing & Enhancing Metal Components with Industrial Metal Coatings
ASB's steel coatings and other industrial metal coatings are an effective method of repairing worn components and restoring them to OEM specs. Using industrial metal coatings to repair parts is generally less expensive than replacing them, and because coatings can often be applied on-site, it can also be faster and more efficient, with minimal equipment downtime.
Metal components can be coated with materials of similar chemistries to return them to their original dimensions and restore their performance to like-new levels. Alternatively, coating worn metal components with conductive, dielectric, or thermal barrier coatings can enhance their performance in challenging or specialized applications.
Depending on the application and performance requirements, non-metal coatings may be a better alternative for part repair and enhancement. ASB applies highly wear-resistant cermet, carbide, and ceramic coatings, as needed.
Industrial metal coatings can also be applied to newly-manufactured parts to enhance performance. Components can be manufactured from engineered substrate materials that provide weight reduction, improved strength, or other beneficial characteristics, then coated with enhanced hard metal coatings for greater wear resistance and durability.
ASB Industries will work with you to determine the best coating material for your specific application. We are the proven experts in industrial metal coatings. Submit a project for a free quote on reparative or performance-enhancing coatings, or contact us for more information.