Beyond The Surface 3rd Quarter 2010
CNC Machining Center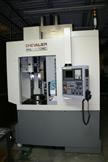 The recently installed CNC Machining Center from Chevalier will enable ASB to support production repeatability on dimensionally challenging hard surfaced components. Features include Fanuc Virtual Device Interface Controller and set-up and tooling features to reduce handling and set-up time. The table diameter is up to 15.74" with 21.65" swing along with high speed tool changing.  The equipment will be utilized to produce rough machined parts to a finished coated part.
New Equipment Installations to Enhance Turnkey Thermal Spray Surfacing Services
Heavy Duty Lathe

Another addition to ASB machining capabilities is a 71"diameter (56" diameter over tool post) X 240" long-with a 3 axis cross slide read-out. Using the new lathe for part preparation and finishing for Thermal Spray Processing, we are utilizing our current tooling and belt grinding capabilities. This adds another rigid and powerful tool for ASB Industries--The equipment is installed and running in less then one week after delivery.
Focus on High Pressure Cold Spray

*ASB Industries Participates as a Sponsor to Cold Spray 2010 in Akron, Ohio for information on the technical program and equipment demonstrations
*Portable High Pressure Systems being Delivered - click here
News and Events
Exhibits
Cold Spray 2010 in Akron-ASB along with CGT will have a table top display for Equipment, Spare Parts and Services
AIST in Indianapolis-May 2-5, 2011  - ASB Industries will be located in Booth 1218 (more to come)
Paper Presentation at Practical Solutions for Corrosion and Wear Conference in Brazil -November 8-10, 2010 in Sao Paulo, Brazil

Case Studies and Surfacing Applications
High temperature environments create unique challenges for equipment performance and product quality.  Shown is a Furnace Roll located in an annealing furnace with a high a performance pseudo ceramic Thermal Spray Coating System to prevent iron by-product adhering to the roll surface that may cause surface defects.  The coating is corrosion resistant to the sealed furnace atmosphere with wear and steering properties of the coating system. Each application is unique and consideration of fundamental engineering design is critical to optimize performance.
Please click here for a library of Thermal Spray Application and success stories
About ASB Industries

ASB Industries is committed to advanced surfacing technology. Since 1946, we have focused on remanufacturing and enhancing component performance through Thermal Spray Surfacing, Grinding, Polishing and other turnkey processes. ASB services a vast array of parts in a variety of industries, ranging from steel, power and paper to aerospace.
Questions and Comments - click here