1st Quarter 2009
Tapered Journal Repair on Large Roll
The bearing journal on this large roll used for Paper Making was mis-machined undersized. The journal was thermal sprayed with Carbon Steel using the Wire Combustion Process. Our machinist used a Sine Bar Gauge during finish machining to meet the tapered bearing specification.  ASB's customer requested expedited processing for a planned outage.
Click Here for other Thermal Spray Short Stories
ISO 9001:2000 Certification

ASB Industries has been ISO Certified 9001:2000 receiving notification on January 13, 2009. Approval Certificate number is on file and available for our ASB customers. Award qualification was received on the first review by Smithers Quality Assessments, Inc. The qualification statement on the certificate states: "Remanufacturing and or enhancing component performance through thermal spray surfacing, grinding, polishing and other essential processes". ASB's quality driven thermal spray facility required a limited amount of additional reporting requirements to gain approval.
Facility Improvements: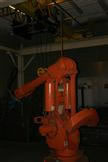 ASB has added additional crane capacity and large cylindrical roll turning in the HVOF Unicoat Spray area along with the existing robot.
ASB recently added new florescent lighting in many production bays resulting in even greater and balanced lighting. This change was noted by many machinists and sprayers as positive improvements along with ASB receiving energy related tax incentives.
New landscaping was added to ASB property adjacent to the Cuyahoga Valley National Park. The walking trail adjacent to the waterway is part of this historic park system dating back to the early 1800's with a sophisticated lock system for water travel bringing industry to Northern Ohio.
Solutions for Wear--Surface Enhancement Guide

Part Repair
Identifying wear mechanisms
Performing emergency repairs and on-site services
Repairing mis-machined parts
Enhanced Manufacturing Capabilities
Meeting OEM thermal spray coating specifications
Preventing product marking during manufacturing
Reducing cost of cast, forged or fabricated parts
Enhancing electrical resistance or conductivity
Reducing oxide pick-up
Improving corrosion resistance
Thermal Spray Support - ASB Industries' extensive machine shop capabilities support complete pre- and post-treatment of Thermal Spray projects:
Having a difficult wear issue - Click here to discuss ideas and options
Cold Spray CGT 2000 Portable Spray System

Shown is the newly engineered KINETIKS® 2000 High Pressure Cold Spray System from CGT Cold Gas Technology GmbH. The hand held Gun compliments the wide range of high pressure Cold Spray equipment available from CGT. The innovative CGT 2000® System is capable of reaching expansion gas temperature to 300º C with up to 20 bar (300psi) pressures. CGT-Cold Gas Technology GmbH in Ampfing, Germany worked closely with ASB Industries on concept development. All CGT equipment offers advanced technology systems that give users production quality Cold Spray surfacing for a variety of new and practical applications complimenting Thermal Spray Surfacing technologies.
ASB Industries, Inc. is the North American distributorfor equipment sales, technology development along with installation and maintenance support. Our facility houses multiple systems with the infrastructure to produce high pressure gas required for operation and customer evaluation.
Upcoming Events: Conferences and Exhibitions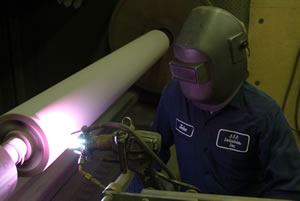 *AISTech in St. Louis, Missouri, USA - May 4-6, 2009 Booth 2424 - featuring Thermal Spray applications in all phases of metal making and processing for strip, bar, pipe and slab products from alloys to carbon steel grades. ASB   will feature Continuous Caster Mold coating technology through ASB's exclusive North American license from Corus Process Engineers, UK.
* International Thermal Spray Conference - ITSC2009 - in Las Vegas, Nevada, USA-May 4-6, 2009 in Booth 211 featuring the High Pressure Kinetics CGT Systems including equipment, technology and application updates. ASB Industries is active with the ASM Thermal Spray Society volunteering for the conference programming.

ASB Industries is committed to advanced surfacing technology. Since 1946, we have focused on remanufacturing and enhancing component performance through thermal spray surfacing, grinding, polishing and other essential processes. ASB services a vast array of parts in a variety of industries, ranging from steel, power, and paper to aerospace. Click here to CONTACT ASB INDUSTRIES